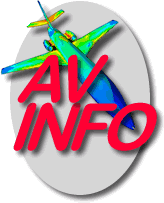 WHY Av-Info: The most difficult aspect of aviation procurement is the proper identification and valuation of materials. Av-Info provides you with the leverage needed when buying and selling commercial, regional, business, and general aircraft parts.
How many times have you found yourself in a situation where you have no idea what the value of an item is? Not only is there no catalog value available, but you are unsure of the current market pricing and conditions. Perhaps you have an item in inventory that has absolutely no background information. Did it come off a Boeing 727 or a CRJ-700. What value would it be to have a web site that can provide you with the information you need to make an informed decision based on catalog pricing, market values, interchangeability, aircraft type, ATA chapter, manufacturer name, and trending data.
We at Av Info, have spent over 18 years developing software solutions for aviation. Additionally, we have gathered catalog pricing, interchangeability, and market trending data for commercial jet and regional/commuter aircraft. This data is available from no other source. We believe that you will find it invaluable.
AAMM Software - Our principal is responsible for the development of many aviation specific applications and database. We are pleased to announce the launch of AAMM (Automated Aircraft Material Management), AAQM (Automated Aviation Quality Management), and AAOM (Automated Aircraft Operations Management) These two software packages were developed to help you maintain your inventory and quality procedures. Our software can take advantage of Citrix thin client services which provides a cost effective solution to your automated inventory and quality control needs.
Our data information service is divided into two parts.
On-line review: On-line review allows you to check on part number information on a unit by unit or small batch by batch basis.

Return Review: Return review allows you to upload a data file to our service in the specified format. The file will be run through our data warehouse and returned to you via email with any addition information found.
Please take a while to review what we have available. Your comments, questions, and suggestions are always appreciated. If you have any questions or comments please do not hesitate to give us a call at: 954-279-1200


| | |
| --- | --- |
| Catalog Prices | Interchangeability |
| 12,115,099 | 8,134,586 |
| 12/3/2023 | 12/3/2023 |
| | |